Welcome to FGB Contractors!
With our extensive experience in the building and construction industry, our company has earned the reputation of delivering the best service and working hard to fulfil and exceed the expectations of our clients.
FGB Contractors is a long standing and successful building company led by Constantin Frigura (PgDip ICIOB), who is a Chartered Building Manager and member of the Chartered Institute of Building with a postgraduate diploma in Project Management. He developed a hands-on experience over the past 20 years working closely with architects, structural engineers and M&E consultants as a Project Manager on several complex projects, ranging from £50.000 up to £5.000.000, in order to achieve the best possible results for the clients.
Our wide range of skills and expertise means we can undertake projects of all types and sizes, ensuring a successful outcome by understanding our clients' vision. We are a professional construction company and our mission is to promote good practices in terms of quality of workmanship, compliance with current standards and we are thankful for the relationship we have developed with our customers, who are the key to our success by providing good referrals.
If you require a good builder stay with us and we will ensure your dream / vision becomes reality.
planning | implementation | professionalism | experience | transparency
"Proudly featured in the Royal Institute of British Architects Directory of Chartered Practices for the Residential Directory 22/23 under the Conservation category. Link to full article:"
RIBA - RESIDENTIAL22/23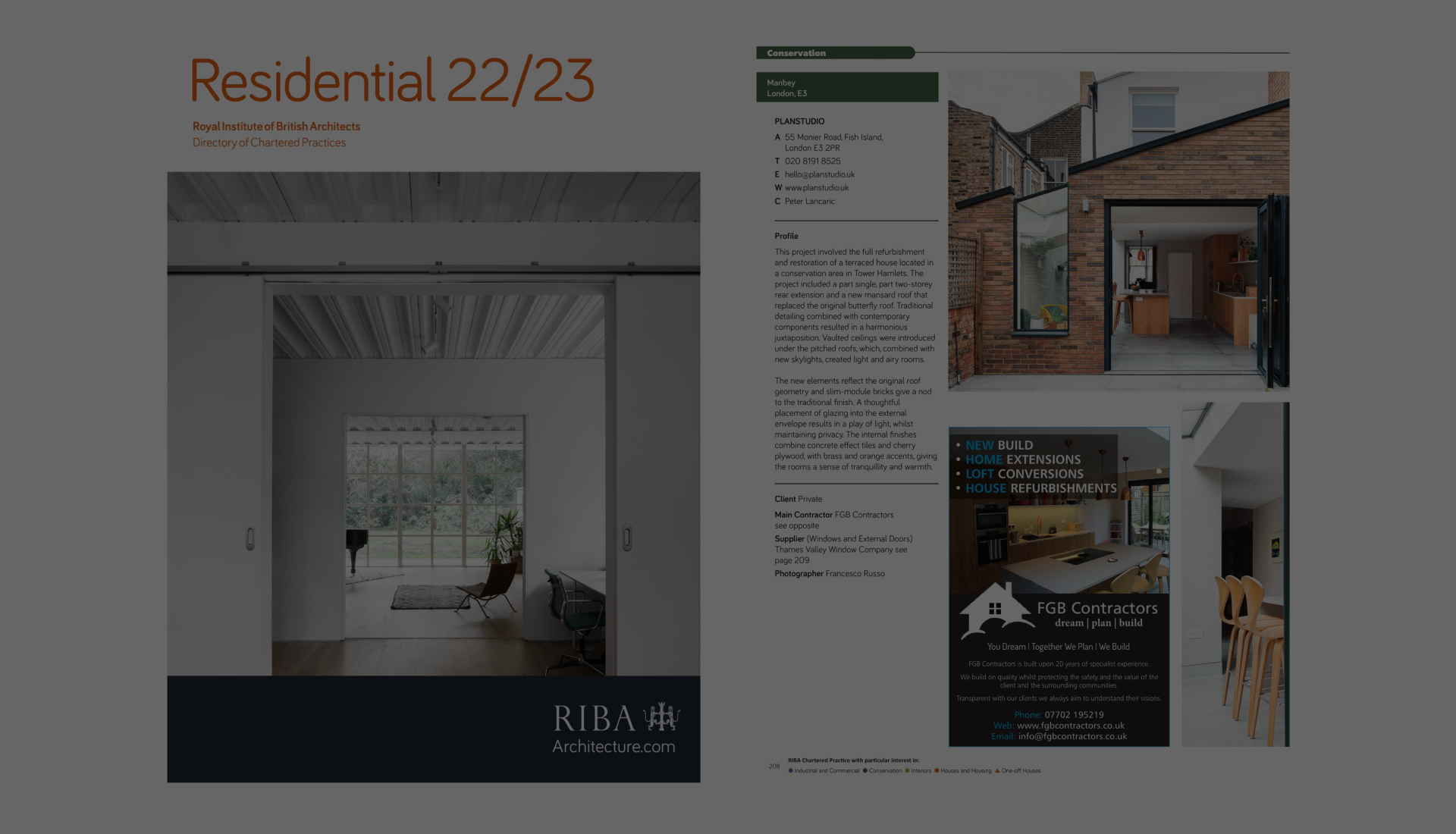 Some of our recent projects:
I cannot recommend FGB Contractors highly enough. Constantin and his team recently completed a beautiful loft extension for us. He has a professional, open, fair and friendly approach. The tradesmen are skilled and polite, and clean up after themselves every day. Communication is great, problems are addressed early on and there is a flexible approach to changes in scope and schedules (which with Covid-related delays was inevitable). Five stars for this builder!

Wendy Svirakova
We recently hired FGB to build our ground floor extension (including kitchen installation) in Wanstead. They completed the job to a very high standard and we are extremely happy with the finished result. Constantin and his team were pleasant to deal with and extremely courteous and polite to our neighbours which we greatly appreciated. We found Constantin to be friendly and transparent throughout and communication was always straightforward – even when we were living offsite. Whenever issues cropped up he communicated with us early and was proactive and pragmatic in providing solutions. I wouldn't hesitate to recommend FGB Construction to others.

David Stokoe
Constantine and his team have done an absolutely amazing job refurbishing my flat. They are very professional and have a great attention to details and also went out of their way to find solutions within budget and help me with all the preparatory work and design/research. They are also extremely nice to work with and always found ways to accommodate their work around me including working from home etc. This was my first project and I couldn't have done it without them. I highly recommend them.

Sarah Kosminsky
Constantin and his guys are a very professional and courteous company. He leads an experienced and knowledgeable team who are able to give help and advice if needed. I am delighted with my extension and would not hesitate to recommend them to anyone looking to have work done.

Lynne Bishopp
FGB recently completed a major remodelling of our house. Kitchen extension, loft conversion, bathroom modernisation, re-wiring, re-decorating throughout. This took place through the lockdown, so was extremely difficult at times. However Constantin and his crew were highly professional, very communicative and delivered a top quality finish. We are proud of our new home and have no hesitation in recommending FGB.

Archie Hart
Constantine and his guys were professional and got on with things straight away. Definitely recommend!

Andrea LdP
Dear Constantin ,thank you for all your hard work in delivering the project.Wishing you and your team a lot of joy, love and good health in 2021

Peter & the team at PLANSTUDIO
Thank you for your dedication through the process, which we would also extend to some of your team in particular Nicolaj, Adrian and Alex. You have some hard workers there who are real assets to FGB.

Sacha and Carli
Cindy and I just wanted to say thank you for all your hard work over the past year , and for putting up with all of our craziness . We got there in the end despite a major global pandemic!

Archie and Cindy
Having spent some time in the house, overall we are really very happy with how it's looking - so thank you to you and your team for working so late on Friday and starting early on Saturday so that we could move in our belongings.

Ross & Teresa
FGB Contractors were very helpful and accommodating in arranging all the details. I have no hesitation whatsoever in recommending FGB and will definitely use them in the future.

Rev Canon Paul Bruxby
The work was completed to a very high standard, at a competitive price and within the agreed time frame. We will definitely use FGB again in the future.

Veronica
Are you ready to makeover your space?